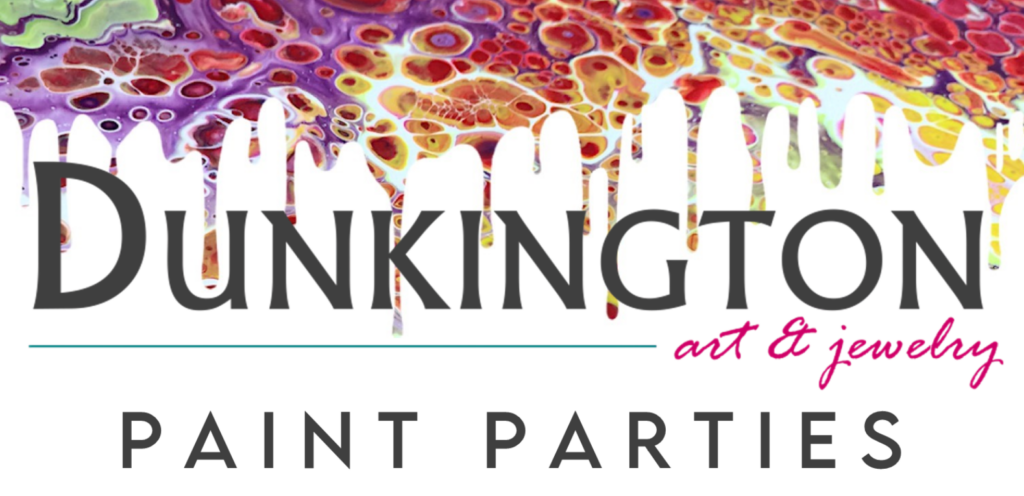 Come pour your art out at a private paint party!
Looking for something different for a Girl's Night Out or Teambuilding Company Event? What about Family Fun Nights or Gender Reveal Parties?
At Dunkington Art & Jewelry our paint parties are the perfect solution for get togethers of any kind!
How do I book a party?
Give us a call at (662) 617-8025 to check for date availability. Once a date and time is selected, we required a $50 deposit to lock in the space. At the end of your party, we will refund your deposit the same way you paid it; meaning a cash deposit gets a cash refund and a card deposit gets a card refund.
What are my options and how much does it cost?
We offer a variety of shapes and sizes to choose from; each with its own price point. Special order & custom shapes and sizes can be requested, but a minimum of two weeks' notice is required to make sure the material arrives in time for your party. There is a $10 Supply & Instruction fee charged per participant and at the conclusion of the party, each participant will be charged this fee plus the cost of whatever items you decided to paint on. The standard options & pricing are as listed below:
* 4" wooden shapes: $8
* 6" wooden shapes: $12
* 12" wooden shapes: $25
* 4" x 4" canvas: $10
* 8" x 8" canvas: $20
* 12" x 12" canvas: $30
Can I bring food & drinks?
You bet! Drinks, including alcohol and wine, and any snacks or food that you would like to bring for the party are permitted.
What is provided?
Your price includes all supplies and instructions, as well as pour trays, gloves, aprons, pour cups, stir sticks, resin application (once the item has dried), and materials needed to finish your art piece.
How long does a party last?
Most paint parties last roughly an hour. If you plan to bring food and/or drink items for consumption before the paint party begins, please plan no more than one hour to finish your meals/snacks/beverages. The maximum amount of time allowed for any paint party is two hours.
How many people can I bring?
There is no minimum number required to book a party, but the maximum number of participants is currently set at 36. If you have a few more than 36, please reach out and let us see what we can do to accommodate them!
When will my art be finished?
Depending on the humidity and temperature, it will take a couple of days for your painted items to dry. Once they are dry, we will resin them to give them that glass like finish and this process usually takes a week to fully cure. As such, we always tell everyone to allow a minimum of two weeks before their item is ready for pickup. We will call/email and let you know when your items can be picked up.
Can I upgrade my paint party artwork?
We offer a variety of options, including mounting and magnets, that can be applied to your finished artwork for an additional fee. Feel free to reach out for specific options and pricing.